Christine Gazzara
Badges
Following Tags
Active Topics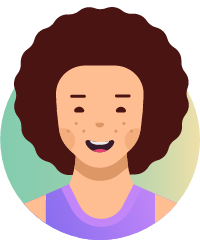 Erika K.
Oct 23, 2016 421 views Kenyanna T.
Sep 01, 2017 391 views Shannon H.
Sep 01, 2017 332 views
I am asking so that I can become more prepared to understand how rigorous and difficult they might become compared to health related classes in my high school.... Olivia G.
Jan 13, 2018 426 views
I've been going back and forth with many different ideas in my head about different manjors. Nursing, occupational therapy, physical therapy, dermatology, interior design, media, nutritional work, child protections, international studies. I have so many ideas, how will I know I'm picking the...
#ideas #media #physicaltherapy #majors #scholarahip #university Jada M.
Jan 17, 2018 394 views Skylar H.
Jan 17, 2018 325 views Sabrina M.
Jan 17, 2018 282 views
I'm worried I won't make it into medical school- it's very competitive. What could I do instead of it doesn't work out? #medicine #doctor #healthcare... Kylah C.
Jan 21, 2018 304 views Keeley F.
Jan 24, 2018 278 views
#medicine #fullmoon #halloween Again, I want to be a nurse, so what should I expect as far as freaky stuff? Tell me your weirdest, creepiest, goriest... Samantha Z.
Mar 15, 2018 195 views
I work at a physical therapy clinic that has multiple locations. I was talking about owning my own practice when I get out of school. The feedback I received from them is basically saying that there was no point because the big companies are going to back all the private practices go out of... Drew H.
Mar 21, 2018 435 views Alyssa F.
Apr 12, 2018 258 views
At school, I am interested in chemistry and math, while my hobbies include swimming and hanging out with friends and family. A topic I am passionate about is the medical field. What are some jobs that I can begin looking into in the medical field? #medicalfield #medicine... Ofori A. L. N.
May 22, 2018 240 views
Like getting to know the kinds of diseases, viruses and bacteria, their cure and the names of pills, and other related items. #biologist #medicaldoctor... Samantha K.
May 31, 2018 271 views
I know I have a long road ahead of me as I start this journey of one day becoming a doctor. For all those Doctors out there. Can you offer some advice on what you did to keep you motivated to stay the course and never give up on yourself even when times got hard. #doctor . #physician....