Gwendolyn Quintana
Following Tags
Active Topics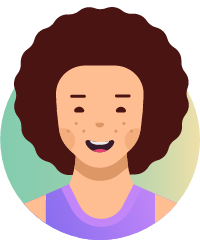 Jade B.
May 19, 2016 439 views Rebecca C.
Mar 14, 2018 203 views
I am about to start college and the university I will attend has a program that allows you to intern with the CDC in Atlanta. Have any of you interned with the CDC and if so, how was your experience there? #medicine #cdc... Alexis W.
Apr 12, 2018 252 views
I want to start my own business in multiple areas but i want to make sure that i get the best degree.... Te'Shanti T.
Apr 12, 2018 394 views
I feel these questions are examples. Can you tell me a little about yourself? Why do you want this job? Why should we hire you? What are your salary requirements? Do you have any questions for us? What is your greatest strength? #commoninterviewquestions #interview #... Summer C.
Apr 12, 2018 286 views
I am a senior at Lakeland HIgh School and graduation is just around the corner. I've already applied to a nursing program in my area, but I am already thinking about what comes after that. I'd like to know what the steps to becoming a neonatal nurse are and what it's like to be engaged in that... Leonila D.
Apr 12, 2018 258 views
I have been put on a wait list to dental schools. I am going to reapply again but I am keeping my options open just in case dental school will not accept me again. I am also going to apply at a hygiene school. ( Note I have all the requirements I needed for dental my scores were not that bad....
#dental-school #student-counseling #school-counseling #hygiene-school #gap-year Bridget W.
Apr 12, 2018 386 views
I've been on the fence as to whether I should pursue something I love for my career, something in the arts like photography and dance, or if I should pursue a career that I can at least put up with so I can support myself enough to be able to do the things I love? I'm torn and I am horrible at... Mikayla C.
Apr 12, 2018 371 views Argelia M.
Apr 13, 2018 398 views Argelia M.
Apr 13, 2018 263 views