Casey Silvestri, MBA
Badges
Following Tags
Active Topics
Active Locations Maeve K.
Apr 26, 2014 2019 views
I am about to head off to college where I will be majoring in business administration with a concentration in accounting. The college I'm going to is highly recruited by the "Big 4" and I would really like to work at one of the firms, #business #career #accounting... Wing L.
May 10, 2016 639 views naomi C.
Aug 05, 2016 613 views Kristin V.
Oct 25, 2016 568 views
I am a high school senior and currently the captain of the girls varsity tennis team and want to know how difficult it is to balance athletics and social life with the career choice of engineering. I understand engineering is a heavier work load, and playing a varsity sport at a college or... Nikki G.
Feb 10, 2017 437 views
I have spanish as a second language.... Tarren B.
Sep 01, 2017 437 views Van B.
Jan 16, 2018 289 views Catherine P.
Jan 17, 2018 307 views
I'm going out of state for college and I need a job during school and during the summer but i'll be going home for the summer's and I don't know how i'll be able to keep a job.... Rohit S.
Mar 11, 2018 259 views
I want to be an accountant but I'm not sure if its right for me. What are some other jobs out there in business? #safejobs... Sidney M.
Mar 21, 2018 266 views
Where is a good place to find financial aid so that transferring to a 4 year school doesn't drowned me in debt?... Betsy P.
Apr 18, 2018 262 views
I am asking because I plan on playing sports in college, and I'm curious to hear from someone who is currently playing a sport in college and how they handle the academics.... Andrea D.
Apr 23, 2018 363 views
College is something that isn't for everyone, but society doesn't tell us that. They want us to think that college is for everyone regardless of what they want to do as a career. Many students have no drive or passion for what they are learning because they don't know what they want to do in... Zoya H.
Apr 25, 2018 881 views
I am considering going into information technologies. I was wondering whether or not I can get my Bachelpr's and Master's degree at the same time in undergrad and/or grad school. #degrees #bs #mba #help...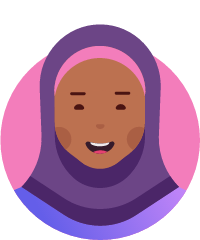 Omar G.
Apr 16, 2019 206 views Kristen S.
Oct 03, 2019 126 views