Gabriel Fig
Badges
Following Tags
Active Topics samuel D.
Feb 10, 2016 441 views Paula R.
Feb 10, 2016 2333 views Sa'Larra J.
Feb 11, 2016 585 views
when i finish HS i want to attend a good college that meet my needs to become a veterinarian. #veterinarian #veterinary... Rasbin S.
Feb 12, 2016 786 views Brendan V.
Feb 16, 2016 695 views
I'm a junior in high school right now and today during school we did registration for the ACT and they handed out our GPA's....... my GPA so far is a 2.157..... but! I wanna know what colleges look at because freshman and sophomore year I went to different schools and I might be moving again so... Kathleen M.
Feb 24, 2016 819 views
I really want to be a music teacher but I am a nervous because all i hear about is state's and school districts cutting the arts to save money. #college... Christina C.
Mar 01, 2016 3866 views
I have always been interested in money and money management. I've talked to family members that does similar jobs and even a cousin that is a accounting. Never was I told the risk of making mistakes as a accounting, and whether it was easy to make mistakes. I question if accounting would be...
#risk-analysis #finance #money-management #accountant #accounting Terrell A.
Mar 01, 2016 920 views
hello, I will soon be attending college and want to know if there are anything that i can do outside of school or possible online programs that would be useful? #career #career-paths #internship #classes... Jamel W.
Mar 01, 2016 1186 views
I am a High School senior who is very interested in the law field. I know that I have to go to law school and take the Bar exam for my dream to come through. I have recently applied to John Jay college of Criminal Justice because I know that the focus a lot on the law field. I want to know in...
#college-major #criminal-law #female-lawyer #criminal-justice Anacia W.
Mar 01, 2016 720 views
When it comes down to what I know, I know that with either being a Dentist, Oncologist, or an Orthopedic Surgeon, I know that I will ultimately have to major in Biology in college for the four years and get my Bachelors Degree. I currently take AP Biology as a Senior at my high School, there... Jesse O.
Mar 02, 2016 693 views
Hello, I recently have been admitted to Lafayette College as a Early Decision applicant. Since my Freshman year, I wanted get into the field of Software Engineering because I have a huge interest in technology and how it's advancing for the future. However, this year I found interest in... Ariella R.
Mar 02, 2016 746 views
I'm a senior and I have been recently accepted to Wesleyan University. I'm really interested in learning about women and gender's studies, race and identity, and traveling to different countries to learn about new cultures. Recently, I traveled to Turkey , which started my love for traveling...
#gender-studies #career-path #helping-others #cultures #race seth T.
Mar 09, 2016 1463 views
hi, I'm a junior in high school and I want to be all three of these and wondered what professionals would think #navy #personal-training... Sami F.
Mar 09, 2016 646 views
I'm a Sophomore and I really really want to get into Berkeley. What things would I need to do, other than have good grades, in order to have a higher chance for getting into Berkeley ? #college #university #berkeley...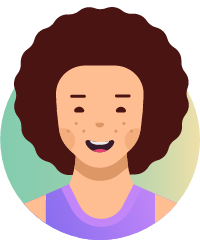 Maribell C.
Mar 10, 2016 626 views
Where would be great places to learn if I wanted to go into architecture?...